How would you like to get a "

CASH OFFER

" for your home today, hassle free and close in 7 to 10 Days guaranteed?
No Hidden Fees | No Commissions
Fair Cash Offer in 24 hours
We Buy In As-Is-Condition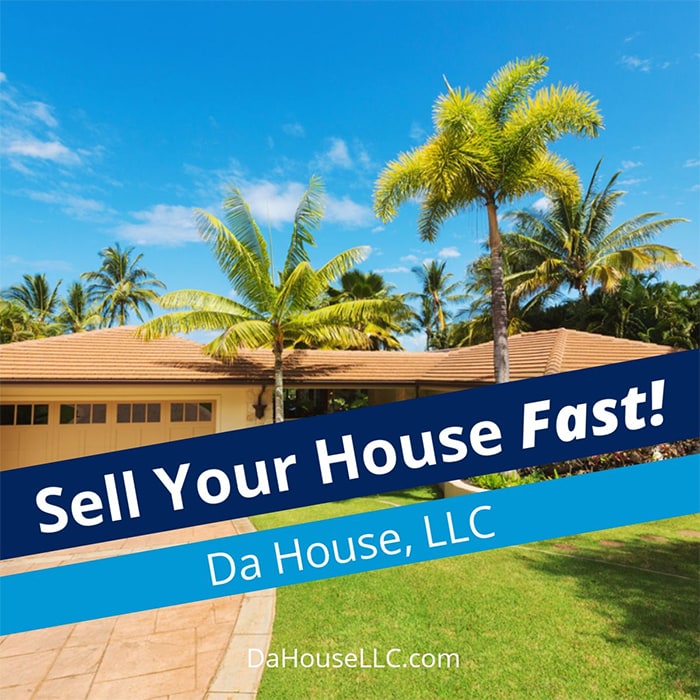 Aloha, We are absolutely blessed that you stopped by our website today.
If you want to SELL YOUR HOUSE……
and you want to Do it FAST…….
HUSTLE-FREE you are in the right place.
Da House LLC specializes in working directly with homeowners!
Homeowners who enjoy the IDEA of RECEIVING an all CASH OFFER!!!
The OFFER does not depend on contingencies like Appraisal or Inspection.
When we give you an OFFER it is going to be a Fair Market Value Offer,
based on your house and its Current Condition.
– you won't have to do any repairs.
– you won't have to clean your house.
– No Hidden Fees
– No Commissions
Sell to Da House, LLC
Da House, LLC Offer: $500,000
No Comission : $0
No Repairs : $0
No Seller concession: $0
No Holding costs : $0
No Cleaning costs : $0
No Seller concessions: $0
No Hidden fees $0
Net Ca$h to seller: $500,000
Da House, LLC will buy the house AS-IS!!!
Even take everything inside of it, if you just
wanted to leave it there!
So if an idea of a hassle-free closing, and an all CA$H OFFER
sounds GOOD for you. Please take a minute to look over the website and when you
are ready go ahead and enter your information and one of our team members will be in touch with you soon
Mahalo,
Traditional Sale with Agent
SALES PRICE : $550,000
6% agent commission*: $55,000
Market ready repairs: $15,000
Cleaning Costs: $3,500
2% Sellers concessions**: $18,000
Holding costs***: $16,000
Net Ca$h to seller: $442,500
*These can be negotiated typical 6%
**Seller concessions can be part of the initial offer to help pay for the closing costs
or after inspection based on repairs needed.
***Holding costs estimate 4 months of mortgage payments and utilities while
waiting for your house to sell.
(depending on the market if it is a seller's market or a buyer's market)
Our Happy Customers
We take great pride in providing a high quality service to our clients. Selling a home is never an easy task, which is why our team works so hard to make sure we have the best process in place to buy your home for cash quickly. As a result we've been fortunate enough to help some amazing people with their home selling situations.
5 STAR REVIEWS

"They work hard to solve problems and do it with a high level of integrity. Amazing to work with!"
"Da House, LLC was very helpful in teaching us about Rehabbing and finding solutions for our home. She really took the time to listen...."
What Type Of Houses Do We Buy?
Life happens! Home owners often have no control over circumstances, consequently people have to sell their properties fast. We help people on a daily basis who need to sell a home for a number of reasons which may include:
Divorce
Fire Damage
Condemned Property
Ugly House
Title Issues
Hoarders
Liens
Medical Bills
Trouble Selling
Behind on Payments
Owe Taxes
No Equity
Disability
Bad Tenants
Facing Foreclosure
House In Probate
Retiring
Judgments
Structural Issues
Relocation
Bad Neighborhood
Downsizing
Code Violations
Facing Legal Issues
Death In The Family
Liquidating Assets
Inherited Property
Job Loss
Bad Mortgage
Expensive Repairs
Bankruptcy
Unwanted Rental Property